Established in 1992, the Wangaratta Woodworkers club, or 'Woodies' as they are locally known, is an active and social club that welcomes men and women of all ages to join them for a coffee and chat, and to work on personal or club woodworking projects of all kinds.
Wang Woodies Projects
Members are welcome to work on any project, big or small. From large furniture pieces and other large projects to small projects including woodturned bowls, pen making, scrollsawing, pyrography and box making.
Your projects are only limited by your creativity and willingness to learn new skills.
There are also club projects you can get involved in such as helping with making prizes for the annual raffle and other ongoing projects with which you can really hone your skills.
Well equipped workshop
Lathes, Table saws, Bandsaws and Scrollsaws to name a few. The Woodies Shed is well equipped to handle all of your project needs.
Experience & Opportunities
Our members have extensive knowledge and experience in a wide range of wood working disciplines and techniques. It's never too late to learn something new. Get involved in one of our club projects and learn to turn on the lathe, make boxes or toys, even furniture!
Great social atmosphere
There's nothing our members love more than a cuppa and a good chat. With tea and coffee facilities and an open fire, the Woodies Shed is a great place to catch up and meet like minded people.
"Come along and make some woodshavings, or pop in for a cuppa.
You're always welcome at the Woodies!"
— Jeff Meyland, Woodturning and pen making
Wang Woodies are well known around Wangaratta and the local area for their involvement in many community activities as well as the annual raffle with beautiful handcrafted prizes. Some of these prizes have included a Redgum garden seat valued at over $1500, small tables, hand turned lamps, salt and pepper mills and many other amazing works of craftsmanship.
Workshop Open
Tuesday, Thursday & Saturday
9AM - Midday
Workshop open for members to work on personal and club projects. Visitors welcome.
Small Crafts Night
1st & 3rd Wednesday of the month
7PM - 9PM
Woodturning, Scrollsawing, Pyrography
and other small projects.
Tea and coffee facilities are available during all club activities and open days. Open fire when weather warrants.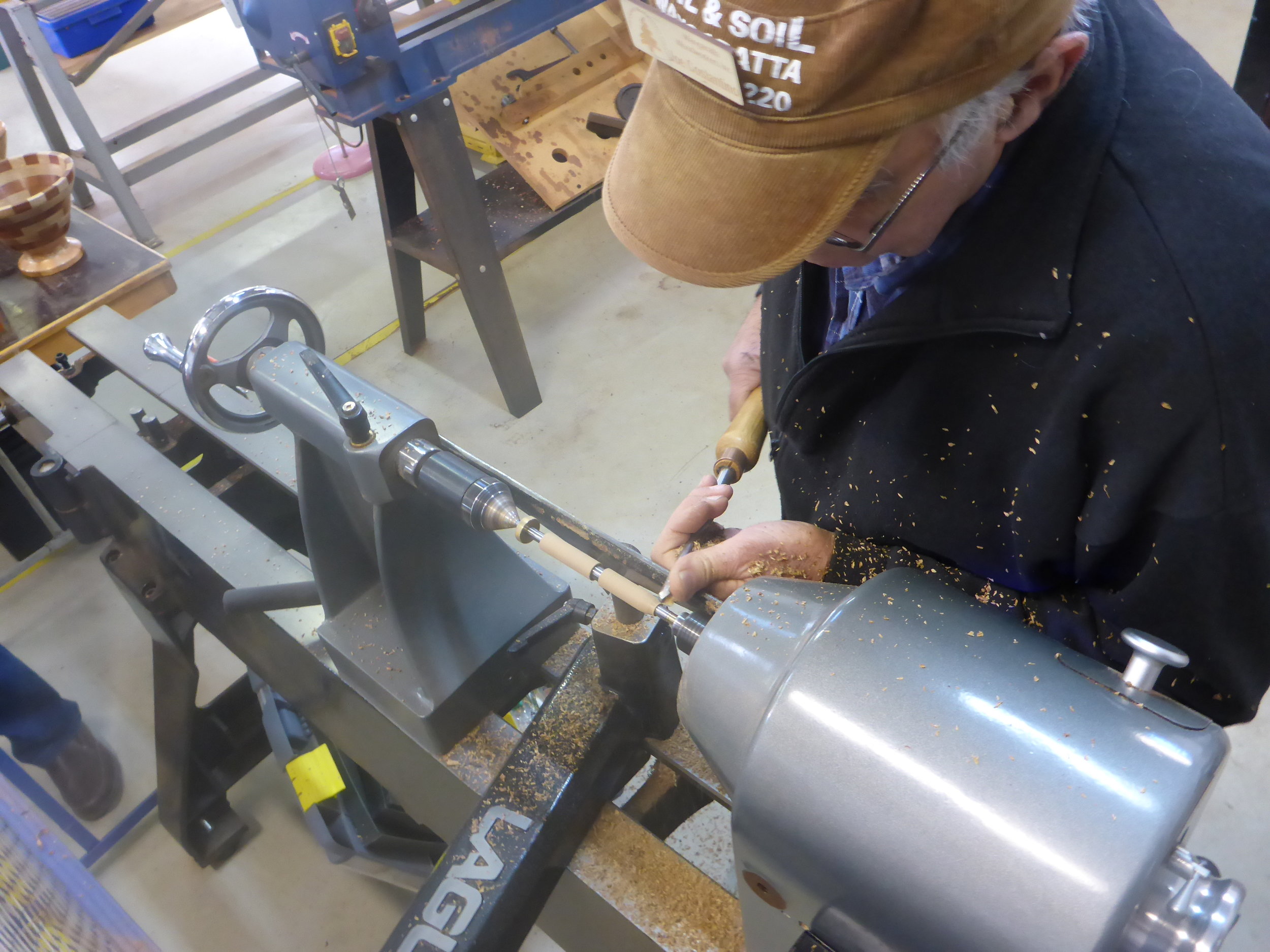 The Wangaratta Woodworkers Club are always looking for more members to join our ranks.
If you think you might be interested in joining, or would like to visit us and get a feel for the atmosphere, you are more than welcome to pop in during our workshop open hours (Tuesday, Thursday & Saturdays 9AM - Midday and meet some of our members, take a tour of the facility and ask any questions you may have.
We're a friendly bunch and welcome all visitors so pop in and have a cuppa with the Woodies!
For more information, contact us by filling in the form on the contact page and we will endeavor to get back to you as soon as possible.
Contact us to find out how to become a member of the Wangaratta Woodworkers Inc.